WELCOME TO THE
Strategy-Driven Supply Chain Institute
Aligning strategy, finance, and supply chain has never been more relevant.
The Strategy-Driven Supply Chain Institute offers training, workshops, coaching, and consulting based on The Strategy-Driven Supply Chain and Supply Chain Strategy and Financial Metrics by Prof. dr. Bram DeSmet.
The content
Training workshops combine powerful frameworks with practical examples and expert-led discussion. Augment with consultative sessions including in-company exercises and custom reports.
Outcomes include the knowledge to:
manage the interdependencies of service, cost, and cash
maximize the return on capital employed
identify how strategy models drive different supply chain designs
determine the right supply chain response to market complexity and variability
integrate supply chain into the strategic planning process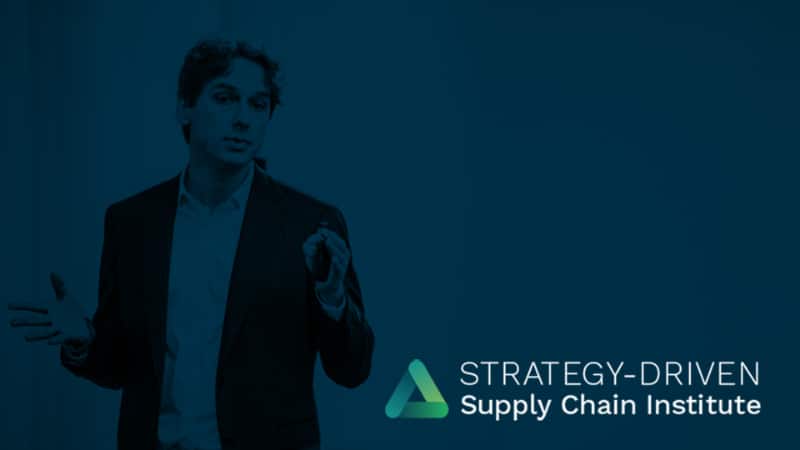 TESTIMONIAL
Our disrupted world poses significant risk, threat and challenge. Yet there is still strategic opportunity for truly resilient companies to respond faster, recover sooner and win.
Supply chain has to be at the heart of a resilient business and its success; leading a connected strategy of full network solutions which integrate functions in a 'perfect balance' across cost, cash, service and sustainability parameters.
Through its models, workshops and interactive debate this masterclass engages as an effective opportunity to understand, think, benchmark and leverage your own strategy driven supply chain journey.
For me, the concept of the Supply Chain Triangle describes the future of supply chain management. A way from the being the crazy guy with the forklift onto to becoming a strategic and valued partner for the general management. Supply chain management is fulfilling to the promises the company has given to share or stakeholders and has a vital and central role in coordinating. Especially with the new normal we do see now after Covid impact and the vast supply chain disruption. The triangle provides a systematic that helps us to consciously take decisions around our supply chain that in the past just happened. Therefore, the Supply Chain Triangle is baseline for our supply chain strategy, vision and mission, as well as for our S&OP initiative.
A must for business executives and supply chain professionals. The integrated value planning and execution model has the potential to become the main business management process for companies in the future.
Choose to build a better supply chain.
The Strategy-Driven Supply Chain
C-Suite
For the CEO, CFO, and other CxO interested in aligning their supply chain strategy to long-term business goals
Exclusive to VP-level executives and higher only
Intimate, small group format
The Strategy-Driven Supply Chain
Professional
For directors, managers, and professionals across supply chain, operations, planning, finance, sales, and product mgmt. interested in aligning their role to the organization's value proposition
The Strategy-Driven Supply Chain
Enterprise
Enable the enterprise with a package offering, including:
Tailored in-company workshops and/or seats to the C-Suite and Professional workshops
Consultation with an expert advisor
In-company keynote presentation from Prof. dr. Bram DeSmet
Additional tools for in-company facilitation