FUNDAMENTALS of the
Strategy-Driven Supply Chain
What defines the success of a company in the market? The fact that they make clear choices on how to engage customers or consumers while being perfectly capable of translating these choices into requirements for their Supply Chain.
The sequel
In his book titled 'The Strategy-Driven Supply Chain', Prof. dr. Bram Desmet builds
further on his earlier developed concept of the 'Supply Chain Triangle of Service, Cost
and Cash' and uses commonly used strategy models as a starting point from which he
starts a journey for designing your supply chain and elevating your business planning
processes to a next "Integrated Value Planning & Execution" level, with aligned
supply chain, financial and corporate objectives, and strategies.
Two main reasons exist today for structural tensions in the triangle:
A lot of Supply Chains today are still designed with least cost in mind
Companies failing to make clear choices on their positioning, i.e. are you an operational excellence leader, a customer intimacy player or a product leader ?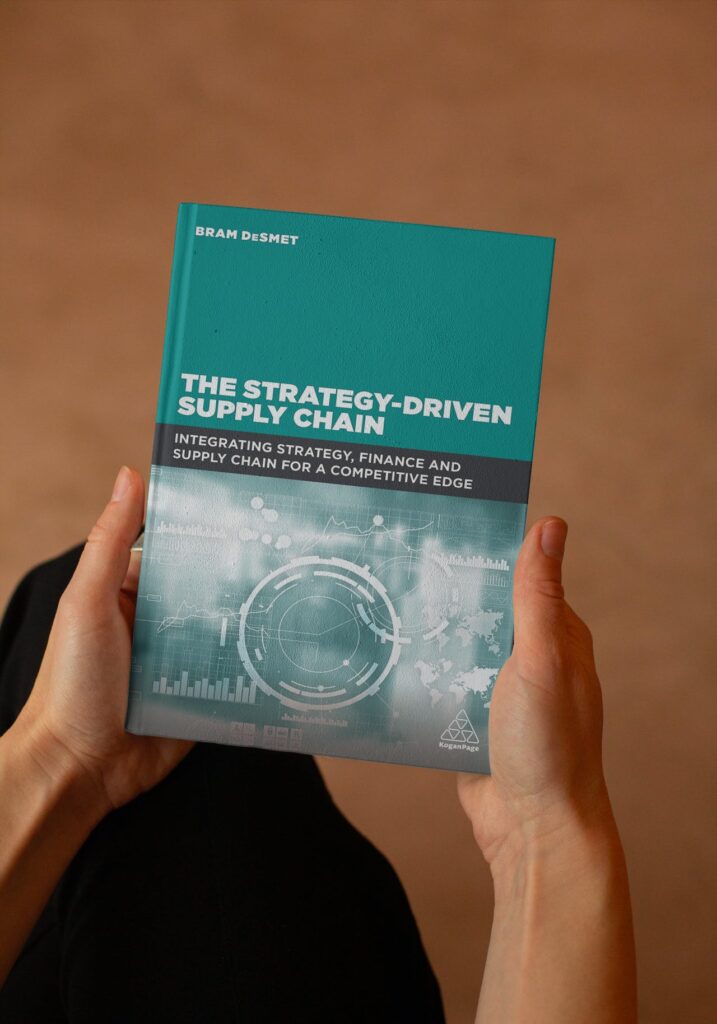 A practical guide from S&OP to IVP&E
Bram explains the importance of making choices and how these choices need to be translated into your supply chain design. A corporate strategy can only be successful if
this blends neatly with the right Supply Chain Response. Therefore, Prof. dr. Bram Desmet explains first that a chosen market strategy and the nature of your particular market environment translates into different levels and types of complexity and variability.
By taking this complexity and variability you will define your desired Supply Chain Response in terms of Reliability, Lead Time, and Flexibility. Once these answers are clear and backed by the whole organization, you can easily map your physical network and operating process requirements. Prof. Bram Desmet finishes his book with the terminology of IVP&E or Integrated Value Planning & Execution, which integrates supply chain, financial, and sales processes with corporate strategy monitoring and design.
Throughout his book, Bram alternates the theory with practical examples. For instance,
he takes you on a benchmarking journey, with concrete, real-life cases from the likes
of Barco and Casio. He also provides you with guidance for building a KPI
dashboard based around the supply chain triangle and for implementing strategy-
driven supply chain management in your own organization.
About the book
Evolution in strategic supply change management
Building further on his previous book where he innovated with the concept of the Supply Chain Triangle, Bram provides additional insights on how to blend strategic choices with the right Supply Chain Design.
Bram laid the foundation for evolution in strategic thinking related to business and supply chain management.